So, you want to design a team of remote creatives… Well, it might be time to throw a party. That's right, a party. Not the advice you were expecting, was it?
Throwing a party is the first and most important step in designing a remote creative team. Experience shows, distributed teams happily collaborate using technology tools (thank you, Slack, Trello, Invision Studio, and Harvest to name a few) but often miss out on the face-to-face interaction physical studio-based teams view as "the norm." And although "going remote" is a choice, it can result in forgoing the group lunches, holiday parties, and birthday celebrations, a.k.a., the fun stuff.
These informal events help build comradery and reduce tension from the uncomfortable nature of group introductions — more so than a Skype call, or worse, a GoTomeeting! Of course, some virtual tools provide a robot friend to say hello every now and then or find a misplaced file — just like Slackbot (the trusty bot for all Slack users — and yes, it knows it's just a bot). (Slackbot! What's my password?) And although this introduction or assistance can be welcoming, humans need a more personal touch when meeting for the first time. They need to experience the benefits of inclusive design.
As we have already hinted, design leaders of remote teams need a trusted solution for assembling their ensemble of creatives. So, with a proof of concept to present, take our word for it: throw a party to begin designing your remote creative team.
While your at it, start them off with something memorable. Something clever. Something deliciously out of the ordinary.
A Party Proof of Concept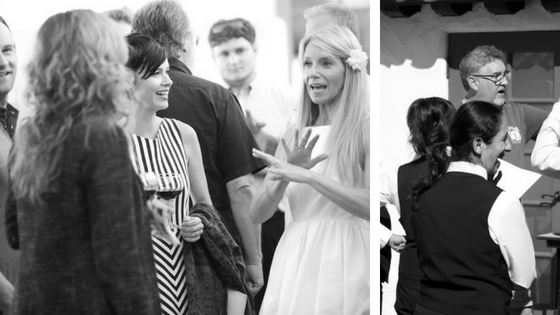 A master of PPC (no, not pay-per-click — get your mind out of the marketing gutter), Executive Creative Director, Lisa Peacock, is also the head "chef" of party design here at Designing North Studios, the crafter of our party proof-of-concept (PPC) coined "Night of The Roundtables."
Planned for the introduction of a newly formed remote team, this concept was designed to reduce barriers and cultivate the most simple aspect of a good time — fun! Fun through eating; fun through listening; fun through conversing; and most important, fun through being. You heard it right, we believe that every team member has a right to just be. But, they better have fun doing it if they plan to be happy and be productive for the long-haul. Ok, enough fun. On to planning.
Throwing The Party — "Night of the Roundtables" Style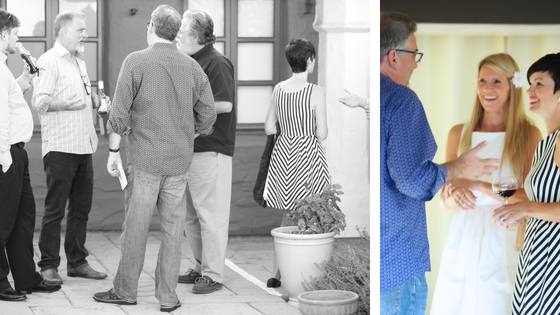 Establishing the tone and setting the mood, this is the best (and really, the only) place to begin. Each person has a purpose on your newly formed team, so provide them with a purpose for being at the party. As Head of Knowledge at First Round Capital, Anita Hossain advocates designing the conversation for thought and complexity. This translates to a carefully curated list of party guests and attendees, steady moderation, thoughtful topics, and a safe environment — with the goal of facilitating meaningful exchange.
Make it Memorable (Make People Dream)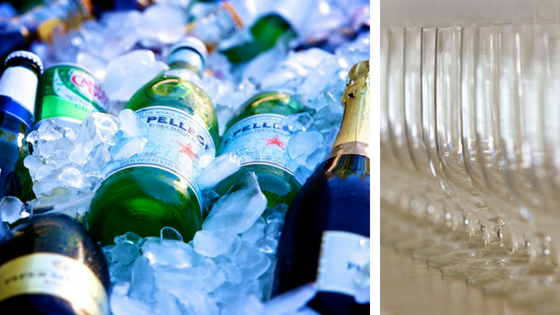 Focused on accelerating the relationship-building process, "Night of the Roundtables" began in a garden oasis surrounded by artist studios with an open-air cafe. After all, this event was designed for designers, who regularly focus their energy on all sorts of creative projects; an environment conducive to building a creative yet comfortable atmosphere was key. And with extra emphasis placed on visual stimuli and sensory objects, guests were introduced to a discrete yet impactful driver for grabbing and holding their attention. As the studio's design leader, Lisa was already subconsciously communicating with this new team without saying a word (but rather, atmospherically).
So, as it relates to your party design, use her tactic and don't hold back. Knowing how to drive your team's motivation is invaluable knowledge. However, visuals are always more valuable than words when experimenting with this — communicate with them from the get-go by crafting an environment filled with special details. They might just carry this visual memory into the workspace.       
Make it Transformative (Make People Get Real)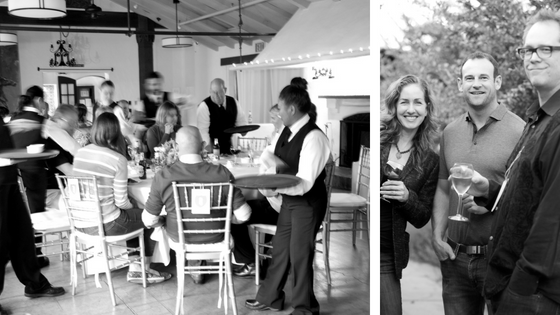 Making a lasting first impression on guests is only the beginning; having an impact is equally important to the overall party experience. As both Lisa and Anita share,
perfecting this detail requires continuous iteration, building upon what works and erasing what doesn't. In order to have the intended impact, guests must be transformed from a pre-party state of mind to a post-party state of being. And it needs to feel real.
Designing North Studios "Night of the Roundtables" surprised guests with hospital wristbands in place of "Hello My Name Is" stickers. Of course, these wristbands were far more revealing than the "authentic" barcode type you might find at the nearest ER (what are we, products on a shelf?…), clearly marked with each person's previously identified addiction — a talking point well suited for cocktail hour. Or in this instance, an hour of storytelling.
Storytelling is a powerful tool, especially when paired with empathy and listening, and every participant of "Night of the Rountables" learned more about fellow guests than they expected — in a fun way, of course; they were all co-workers facing addiction together.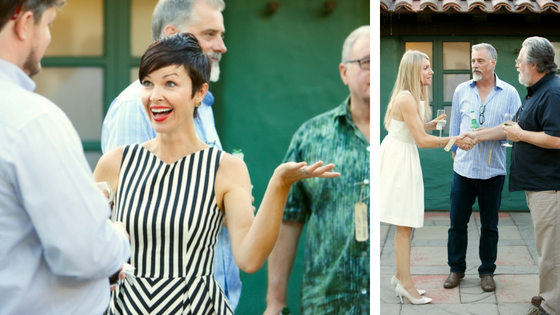 A lesson learned during this opening activity, the pre-party reconnaissance unearthed many of the creative opportunities Lisa used to break the ice. Something Slackbot hasn't been programmed to do. Can you imagine signing up for a new communication tool and being greeted with: "Well that's impressive… you haven't missed one episode of A&E's 'Hoarders' in five seasons. What has you so hooked!?" In all seriousness, wouldn't you want to know if your fellow copywriter spent a measurable portion of his paycheck on vegan chocolate chip cookies to enjoy with his daily 2pm coffee break? Don't judge…   
Cutting through the fluff and convincing people to get real — it's the basis of having a transformative in-person experience. But, as Anita Hossain has identified, there are four important factors to keep in mind when designing an event and expecting it to have this impact: intention, structure, vulnerability and utility.
Make it Collaborative (Make People Fearless)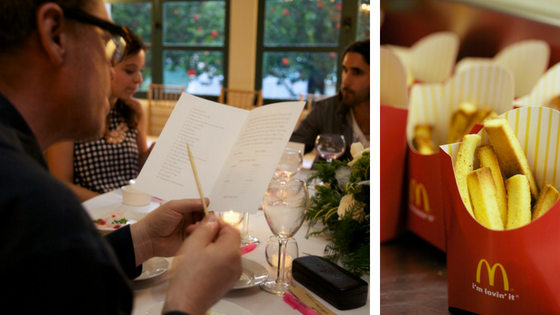 Moving on from heartfelt conversations about one's guilty pleasures turned addiction (ahem, vegan chocolate chip cookies and pour-over coffee), hungry guests were presented with menu options for the evening: Lanced Armstrong; Mini HTML; Jesus' Treadmill; Fowl Ball; A Mazing Grace – all without explanation. Adding suspense, small wooden tokens (referred to as a round "Tuit") were handed out by the evening moderator with little explanation other than a hint at their future worth as food arrived from the night's gourmet chef.
Of course, this was all by design, part of the structure that enticed people to mingle and cultivate conversation — outside of the yawn-inducing "hey there, what is it you do for a living?". After all, the very nature of designing a party of this sort entails curating your guests, likely around a shared professional background. Guests were aware of everyones association to the technology and design field, but that was the extent of it. They would soon learn who their team members really were — unique, thought-provoking individuals.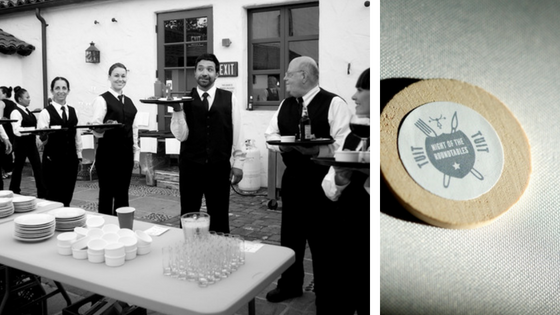 As the first of four courses made their way from the kitchen, guests found themselves with odds and ends of a complete dining experience — some received utensils; others a salad; and for a few lucky ones, a glass of beer was all that arrived. It didn't take long for the purpose of wooden tokens (round Tuit) to become clear. It was time to barter.
With the evening segmented by dinner courses and exercises, guests quickly overcame any fear of feeling awkward or exposed (quite frankly, everyone was having too much fun to give a damn), revealing their resourceful nature in the name of free gourmet food and obtaining the proper tools to enjoy the delectables with decency. (You wouldn't eat with your hands on the first date… or would you?)
With trust earned and comfort levels peaking, it was time to add another element, effectively peeling back the layers of each team member — when the true psychological icebreakers should be introduced, opening the door for deeper connection and understanding of one another.
Make it Unifying (Make People Trust You)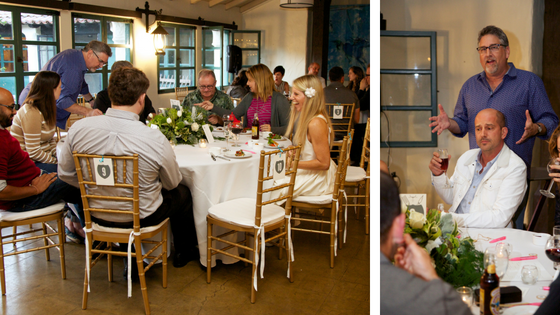 With his charming British accent, Head of Technology, Nigel Peacock, took to the microphone and began asking questions guests didn't see coming, questions revealing who everyone really was — as living, breathing, laughing, and happy human beings. As Anita Hossain explains to her clients, this is the best time to introduce a thoughtful exercise that fosters empathy, openness, and willingness to share.
Using his welcoming personality, Nigel called upon guests to answer questions along the lines of: What's your favorite curse word? And, If in fact there is a God, what would Peter say to you as you enter the Pearly Gates? Of course, having a true charmer on the asking end of questions such as these makes all the difference. Leaving guests with no choice but to think on their feet, this exercise revealed just how confident they really were. As intended, responses revealed some of the quirkier aspects of the evening's personalities — the byproduct of a safe atmosphere.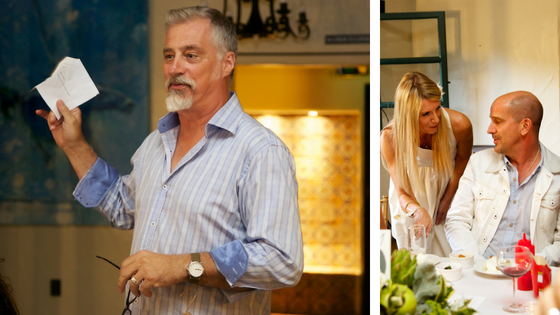 By the time it seemed impossible to conjure up another moment of mutual embarrassment, guests were asked to locate their last wooden token (a round Tuit) and inspect it for a star. As the scramble commenced and neighbors signaled the winners like a heated climax to community bingo night at the local retirement home, three fortunate souls came forth and were gifted generously: a pair of mustached shot glasses; (2) tickets to Pat's hilarious one-man show The Wonder Bread Years; and a $100 Apple gift card.
Everyone was reminded that there were no losers at this party. Through all of the meals, games, and revealing roundtable discussions, everyone had gotten 'a round Tuit': the main reason for being at their tables, a part of this special group and special night. They were all the stars of the studio. Designing North Stars.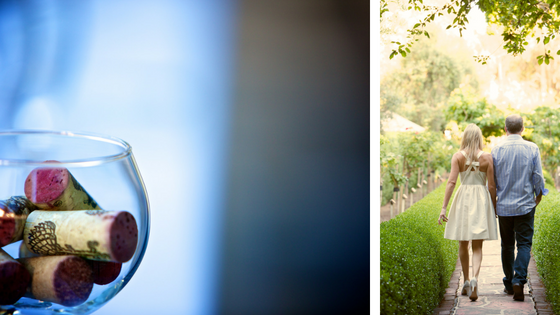 So, although this group understood they would spend the majority of their time communicating by text, email, and virtual chat, the party imprinted a mindset on them, one that required no further explanation. It was a feeling. Everyone was seasoned enough to know that the real value of this studio revolves around time spent with others, working with people who are happy, love life, are passionate about what they do, enjoy a good laugh, and always adding that extra effort – that hover above good enough. People who can check their egos at the door.
The Takeaway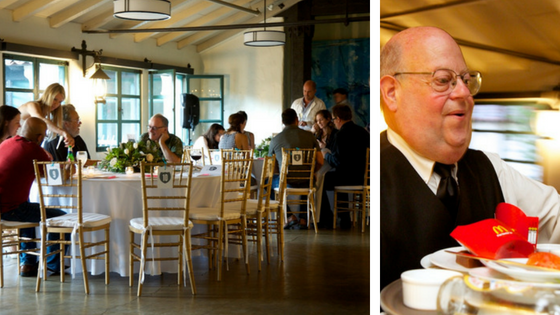 Few guests realized they were seated in a room with a veteran from Industrial Light & Magic, a former editor-in-chief at Wired Magazine, a designer at Fitbit, one of first designers at Frog, three former vice presidents of Digital, and an entrepreneur that helped build YouTube's DigiTour which incidentally just sold to Ryan Seacrest's company for millions. It didn't matter. They were simply a bunch of creative people taking a little time out for amusement. Roundtablers. Where no one was king, but everyone was a beloved knight. Each finding ways to pay it forward and support their new team members.
Now you see: throwing a party is the best way to design a team of remote creatives. With your new understanding, it's clear that a generic party won't do; you need a well planned event with exercises that move people and reveal a shared mindset. No matter who your guests are or what they do, use the factors above to throw the best damn party you possibly can. Make people dream, get real, be fearless, and trust – that your next party will be one they will not miss.