Plastic waste — it's everywhere! Every ocean. Every beach. Every river. Every community. It's even in your drinking water. (Deep gulp. Swallow. Raise eyebrows and open eyes wide — yeah, we had the same reaction.) In fact, current research (A global inventory of small floating plastic debris) estimates that every year 5 million to 13 million tons of plastic ends up in the sea — picture that for moment; in reality, it's far worse than what we can visualize. Even so, the production of single-use plastics continues to increase across the globe as humans find it difficult to forgo a convenience-based lifestyle for something a bit less harmful on the environment. We are all guilty. Still, we all have the power to reverse this trend. As Captain Charles Moore said in response to discovering the Great Pacific Garbage Patch in 1997,
Humanity's plastic footprint is probably more dangerous than its carbon footprint.
From corporate programs to government regulation, many people (and groups) are showing intense interest in reducing plastic waste, or better, stopping it at the source. And this mindset absolutely makes all the difference. Clearly, we need more of this thinking.
We need large populations to form emotional bonds with the places most affected by plastic waste: the ocean. We also need people to better understand the ocean's role in our health and survival. Although educational efforts have made progress, it's the creative lessons that seem to resonate the deepest, the non-verbal forms of expression which strike a nerve and influence action. Much like the classical lessons we all learn from the humanities, art has proven to be a powerful tool for communicating the dire need for immediate change on how we use and discard plastic waste.
From developing a sense of what activists and designers are currently doing to communicate their concern for the plastic-waste issue while inspiring others, it's clear that artistic creation is the preferred channel of expression. No paid ads. No digital strategy. Just art. Art that incorporates the physical pieces of plastic removed (by hand)  from a local beach, river or the stomach of a dead seabird — harsh. These may be creatively-gifted minds, but they are keeping it real. And somehow transforming a dark problem into a pretty call to action.
The Designing North mindset speaks to our belief that everyone is creative in one way or another, and by practicing artistic creation, a person can design a life that's more enjoyable and fulfilling, even if it entails tackling the heart-wrenching reality of ocean plastic.
The following artist-driven projects are some of the best ocean-plastic campaigns on earth, especially with their success in transforming the way people are educated about the severity of plastic waste. These people — artists, non profit organizations, and activists — are making a real, measurable impact in the world by designing a life that promotes sustainability; a life where art speaks louder and with more authority than words ever could; a life of creativity and learning in the name of environmental healing. Let's find more of these creators. Let's celebrate them — now and forever.
Angela Haseltine Pozzi: Washed Ashore
Prior to attracting hundreds of volunteers, it was just Angela Haseltine Pozzi. An Oregon native, Angela was moved to do something about the relentless waves of plastic waste washing up on her local beaches. As an avid beachcomber, it was only natural for Angela to begin collecting ocean plastic and transforming it into artistic sculptures for others to see. Little did she know her heartfelt creations would create such a widespread movement for others to join. As an artist and activist, she designed a community doing what she loves most: advocating for the ocean environment.
As a multi-talented community of activists, artists, and recycling "pros," Washed Ashore offers a clean perspective towards removing plastic from the ocean: even small actions make a positive difference.
We collect trash that has been removed from beaches through volunteer community cleanups. This trash is then washed, sorted and prepared for the creation process. Each sculpture is designed and directed by a professional artist and then formed through a collaboration of Washed Ashore team members, volunteers and students.
A work of art is born. From tons of plastic pollution, monumental sculptures have arisen to awaken the hearts and minds of viewers to the marine debris crisis.
Their plastic art is making a difference:
90% of marine debris is petroleum based

95% of all debris collected is used in the artwork

300+ miles of beaches cleaned

60+ sculptures have been created

38,000 pounds of marine debris has been processed

14,000+ hours have been contributed by volunteers

10,000+ volunteers have participated
*Stats by Washed Ashore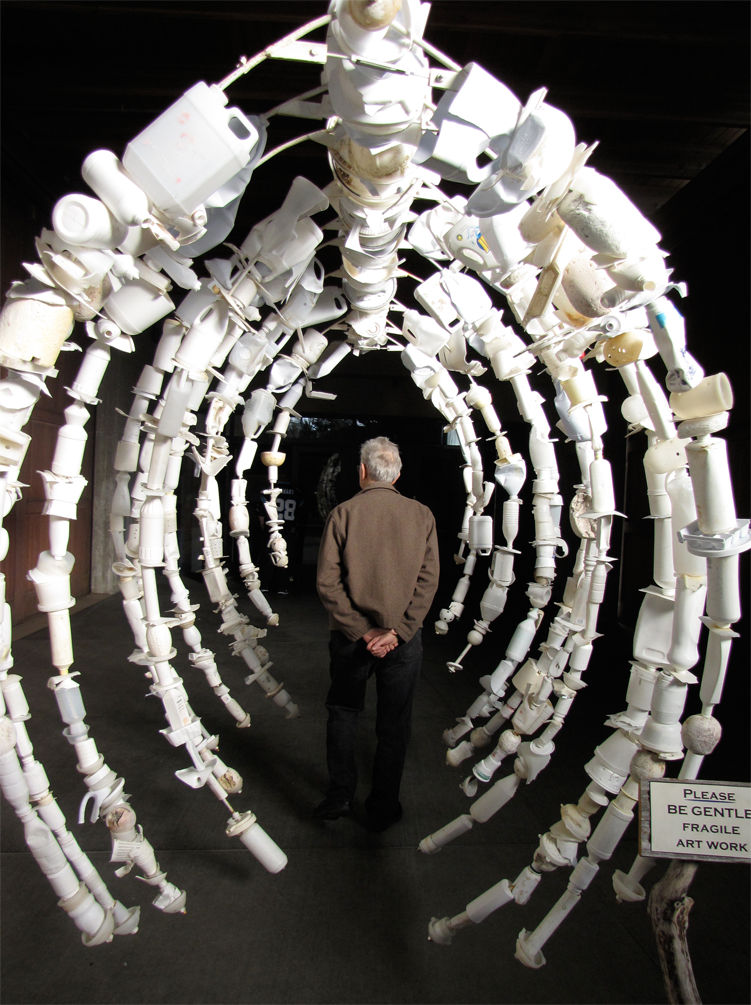 Of course, you have to see the Washed Ashore Traveling Exhibit for yourself — and possibly walk 'through' the skeleton of a whale made completely from ocean plastic. How cool would that be!
Alejandro Duran: Washed Up Project
The beauty of Mexico's Caribbean coast is undisputed; but the influx of ocean plastic washing ashore isn't adding to this appeal, especially since the local population has little control over how much plastic arrives on these beautiful stretches of coastline. Documenting the litter firsthand, Alejandro Duran, a photographer and artist from Mexico, has "identified plastic waste from fifty-eight nations and territories on six continents that have washed ashore along the coast of Sian Ka'an, Mexico's largest federally protected reserve and an UNESCO World Heritage site."
Best identified as a 'plastic artist,' Alejandro collects plastic debris, organizes it and creates an installation depicting the influence that the trash is having on the local environment. Beautifully described on his website,
At times he distributes the objects the way the waves would; at other times, the plastic mimics algae, roots, rivers, or fruit, reflecting the infiltration of plastics into the natural environment.
Although his creativity and artistic touch is beautiful, his greater goal is to educate and influence others to notice the problem, influencing change through awareness. Not many people take just a few minutes during the day to realize the immense crisis our planet is facing regarding plastic waste. There is no such thing as a safe zone; UNESCO World Heritage site's aren't immune to pollution. But with the mindset, determination, and creative abilities of Alejandro, a more positive future with less plastic waste is possible. And just maybe, enough people will share his work to influence a community to create the change needed to save this one-of-a-kind landscape.
Chris Jordan: Albatross
The way photographer and artist Chris Jordan sees it, plastic waste is a 'gut-wrenching tragedy.' And although this project is much too serious to be characterized with a witty pun, "Albatross" is a visual journey into a grim existence for one species of seabird (the albatross) that's being devastated by ocean plastic. As Chris discovers, his annual journey to the remote Pacific where he and his team document the cycle of birth, life, and death of Albatross and their chicks, is far more than a reminder of the impact humans have on the environment and creatures that inhabit it. It's a catalyst for the intimate connection that many of us feel with this earth, inspiring real people to take notice and change their habits for the benefit of others, both human and non-human.
Both behind the lens and on the screen, Chris Jordan takes viewers on a visual expedition that's both heart stopping and difficult to comprehend; it's a compelling narrative which demands an emotional response towards unnatural death and a problem so immense that it tends to be swept aside.
Where most documentaries drop off, Albatross guides viewers with a lyrical journey to a place they have likely never been. So the question remains, will this film move you to be the change you want to see?
Liina Klauss: Salvaged Flip-flops
With the help of Potato Head Beach Club — a resort location offering some of Bali's best sunsets and tropical-modernism vibes — Art activist Liina Klauss is  using artistic creation to communicate the harsh reality of marine pollution. Giving life to this project, Klauss enlisted a small team to collect 5,000 flip-flops (soles) from Bali's west-coast beaches. After a series of six clean-ups, sorting, and two weeks of constructing the installation, the large-scale "color-wave-sculpture" now rests on the beach club's property and serves as a reminder of what Potato Head stands for: 'providing good times and doing good in the world.' Additionally, no detail was overlooked during the creation process, even the frame used to join the flip-flops was made from sustainably harvested bamboo (IBUKU) and thread constructed from recycled bottle caps. For those lucky souls traveling to Bali this year, you can experience this installation in person through the end of the 2018 summer season. But remember, please keep your flip-flops close, they are yours to keep and the ocean has no use for them.
Although this display of marine debris serves as a reality check for us humans, Liina has a specific message she wants to convey: "I want to show people a different perspective on what we consider 'rubbish,'" says Klauss. "Everything we throw away comes back to us (via the air we breathe, the water we drink, and the soil we grow crops and raise animals on). Flip-flops are just one example; there is potential within all these materials we waste and consider worthless."
About Liina Klauss
A German artist living in Hong Kong, Liina Klauss specializes in creating installations and paintings made from man-made waste. An environmental artist to the core, Liina's ultimate goal is to raise awareness for the threatening impact humans have on nature; and It just so happens that colorful salvaged sandals happen to be in abundance at the moment.
Mandy Baker: Photographing Marine Debris for Science and Activism
Scrolling through her detail-oriented instagram feed, it's no secret that award-winning photographer Mandy Baker is a true storyteller, one that has dedicated her craft to documenting the adverse effect marine debris has on our environment and wildlife — such as seabirds. However, there's much more to this story than just an artists perspective; Mandy has made it her mission to increase the "shock value" that people have when they see marine and plastic debris. She does this by coordinating her work with scientific projects, integrating factual statistics with undeniable artistic talent. The two really is a lethal combination, and it's hard not to be engulfed in emotion when viewing her final product — a brilliantly composed image of finely curated plastic particles swirling in what appears to be complete emptiness. Could this be a visual metaphor of what is to come for our oceans if no action is taken? Oh. And did we mention — the plastic is often sources from the stomach of a deceased Flesh-footed Shearwater?
About Mandy Baker
The aim of my work is to engage with and stimulate an emotional response in the viewer by combining a contradiction between initial aesthetic attraction along with the subsequent message of awareness. The research process is a vital part of my development as the images I make are based on scientific fact which is essential to the integrity of my work. The impact of oceanic waste is an area I have documented for more than 8 years and am committed to pursuing through visual interpretation. In collaboration with science I am hoping it will ultimately lead to positive action in tackling this increasing environmental problem which of current global concern.
These five artists are designing a response to ocean plastic in the most creative way possible. They are providing a pretty solution to an ugly problem, and educating the public in the process. In sharing their work with you, we ask that you take a moment to reflect on their work and ask yourself, what can I do to make a difference? How can I add a little bit of extra effort to create positive change in the battle against plastic waste?  We know you have it in you. You are designing north.