User experience (UX) and and retail are getting together, again. But this time, it's going to be different.
This time, retail strategy and UX are going to get things right; brick-and-mortar and digital will finally accept their marriage as a lifelong union with their sum being greater than their parts, and relationship goals will soon refer to the comfortable, personalized attention that a "store" experience should provide customers.
Wait a minute… did we say customers? We meant people! That's right, these renewed vows between design and retail will make life easier and more enjoyable for people — they have feelings after all.
These two fields of practice (retail and design) will finally share the responsibility of changing retail for good; they are poised for a new beginning, and ready to commit. And through strategic senior leadership, retail professionals and creative pros will commence thinking around experience design and more specifically, getting the right people on board to craft the ultimate user experience for people and the communities they associate with. People aren't satisfied with simply living anymore, they want to design their lives. So… as we like to say, it's time for a redesign.
A UX Perspective on Retailing
We were once students of retailing sciences in the Retailing and Consumer Sciences program at the University of Arizona. And to be honest, after learning to analyze people and their purchasing behavior we never really stopped being a retail student. In class we (myself, peers and professors) would discuss a controversial question that served as a "hot-button" for many students: "Is retail dead?" Of course, we all had unwavering beliefs as college seniors, but still, a handful of us — including myself — felt a bit of uncertainty and perhaps, fear towards this question. Could we really be investing so much time and money into a dying practice?
It wasn't until we gained exposure to UX design that we finally had the answer: Retail is not dead. In fact, retail was never close to dying, nor did it need to. Sure, it may be going through a prolonged midlife crisis… but then again, maybe it just needed to find a partner to guide it in a more promising direction.
From attending conferences and listening to the many podcasts and webinars that discussed the world of retail, it's no secret that even the most prominent retail giants are constantly searching for a 'better way' to grow their physical presence, or change it up completely. But in a time when technology literally brings the world to our fingertips, what is left for retail, and even more importantly, what can retailers do to provide this field a new "lease" on life?
The answer lives in the "UX of it all" — how does a user experience translate into a feeling or emotion that people want to relive and can recognize time and time again with satisfaction?
Companies such as Nordstrom, Apple, Goop, and even Nike are embracinguser-centered design to provide class-leading UX for brick-and-mortar; they are no longer designing solutions 'for' people (there we go with people before customer), but rather, 'with' people. The people they are designing for never leave the center of the equation, everything revolves around them. And as we have learned from the many digital projects we worked on in our studio, this is the way it should be. It has potential to breath new life into the paradigm around retailing. So, although many of these names have been around for many moons, they are what we consider the new retail — a stark contrast to the legacy retailers we are so familiar with.
The New Nordstrom (User) Experience
"John W. Nordstrom believed success would come only by offering customers the very best service, selection, quality, and value." Although the world has changed significantly since 1901 (Nordstrom's start), Nordstrom's ideal customer hasn't; and both the in-store and online journeys are still crafted with these values in mind. Only now, the company has more advanced capabilities beyond just the omni-channel mindset. In fact, it's expected that the Nordstrom guest will have a personalized, unique experience that is convenient for their life. The company's latest store innovation reinforces this point: although people have time (to shop), they don't have time to waste.
As Nordstrom explains their latest concept, "We know there are more and more demands on a customer's time and we wanted to offer our best services in a convenient location to meet their shopping needs. Finding new ways to engage with customers on their terms is more important to us now than ever."
Nordstrom's latest store concept (3,000 square feet, instead of a typical Nordstrom box size of 140,000 square feet), aims at offering an experience that reinforces the positive interaction among people based on wants and needs, while matching those to the brand's personality (in this case, Nordstrom). From stylists to beauty service providers and consultants, guests will have access to the 'full fashion treatment." But calling this an enriched experience would be an understatement. With "bars" in the stores, where thirsty shoppers can order juices or wine; visitors can completely "let go" and relax as though they are at a special event. The company noted that skilled retail professionals will still be an integral part of the redesigned UX, and stylists will be doing what they do best: curating outfits for shoppers while reducing, if not completely removing the stress they feel when searching for that perfect outfit.
The retail atmosphere has much to learn from the digital space, and Nordstrom is proving that they can enhance the UX of a store by following digital trends. We know that websites have at most 15 seconds to win the attention of a visitor, and that's on a very, very good day. So, as technology further integrates the on and offline channels, should companies expect different behavior for store visitors? We think not. But companies such as Nordstrom are learning how to quickly gain the attention of visitors by creating and therefore offering 'WOW' moments in stores.
Today at Apple
Soon, a typical conversation with friends and family will begin with, "Today, at Apple…" That's how good the Apple experience is expected to be with their ongoing store-experience redesign.
When I think of Apple (the brand), the first visual that comes to mind is that of an Apple store. You know, the one with the perfect lighting, modern-display furniture and big glass windows that often showcase a clever merchandise arrangement.
Why though?
It's because we can recognize the in-store experience of Apple. Purposeful UX practitioners have made it instinctual.
As our Executive Creative Director & Managing Director at Designing NorthStudios, Lisa Peacock explains the reasoning for my recognition:
"Well-constructed experience design (backed by well-understood psychology) presents people with things that are recognizable. And it doesn't even have to be exact. By providing people with familiar visual, auditory, even tactile cues, they are able to tap into associative memory much faster with less cognitive load; decision making becomes instinctual and follows a pattern of flow, and recognizable experiences provide a sense of calm and enjoyment — the pinnacle of user experience."
The user experience (UX) associated with these retail locations is engaging, friendly and interactive. You don't forget it, even if you only visit a couple of times. Plus it transcends into Apple products; once you use an iPhone or iMac you recognize the experience across device interfaces (UI), and after visiting their store once you quickly learn where you need to be to find the assistance or information you need.
The process is also repeatable and usually very satisfying. This is the foundation for Apple's continued success with brick-and-mortar, and with the success of their brand in general. It's the driver for continued innovation in a discipline (retail) that hasn't been kind to most large companies. From the digital-device solutions to the shopping and technical support, everything Apple designs is reinforced by user feedback. Apple's senior Vice President of Retail, Angela Ahrendts, says it best in an interview with CBS This Morning,
"Our soul is our people. And our job is to enrich their lives, change the world."
Wouldn't you support this mindset?
These are the words you want to hear from a retail leader, especially when they speak to the importance of user-centered design. They aren't enriching their lives with a product, they are doing so by providing a curated opportunity for people to have life-changing experiences using technology (the product is simply a tool). In other words, the store, "it's the largest product that Apple produces." If this statement caught you by surprise, you're not alone. But isn't it refreshing to hear that retail is in fact, not dead?
All 500 of Apple's retail locations will soon offer a redesigned experience (beginning in April) through the implementation of new hardware, further transforming the retail experience (or "Town Square" as Apple calls it) to embrace community gathering, education, and engagement.
Lined with trees, The Genius Bar matures to The Genius Grove (in a few locations) and the expertise of its support offering evolves as well: staffers called "Creative Pros" will specialize in music and photography to educate and assist, and even more importantly, further develop the bond that Apple has formed with its loyal community. This is the face of a "new retail," one that is determined to connect people rather than sell products. This is "Today at Apple."
This is the paradigm shift we will all come to embrace as the brands we already love, continue to learn more about us and the lives we 'want' to live. The way I see it, if brands such as Apple successfully create the ideal store environment, the term 'shopping' will no longer be a worthy descriptor of the dynamic relationship between person and store.
The Goop Lab
From the sound of it, it might not be what you expect. But what if the "new retail" had very little resemblance of the old version. What if transparency of a seller's intentions wasn't an issue because the customer was in complete control of how they record their experience?
Goop, Gwyneth Paltrow's lifestyle brand, is rewriting the script for how a retail store should look, feel and function, and the latest rendition involves a journey into brick and mortar as an experience (and mindset), not just a location — hey… I've heard this before. But don't for a second think GP is doing things the old fashioned way. If anyone has a modern mindset for what the word retail means, it's GP and her team of design thinkers.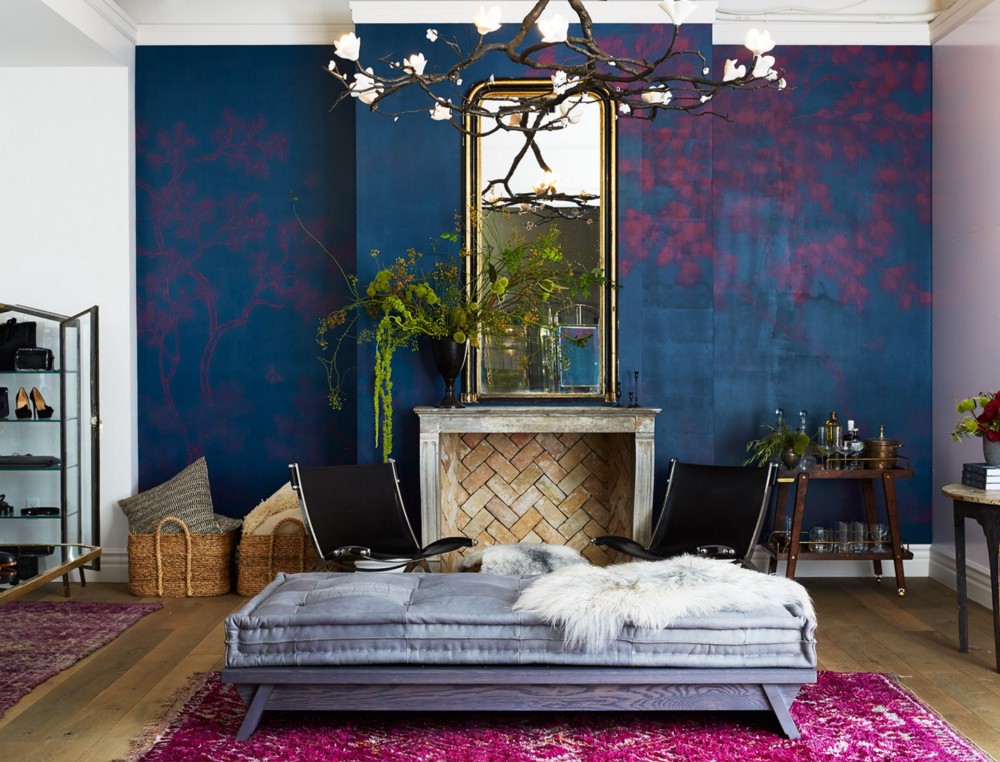 Titled Goop Lab, this space is less of a store and more of a state of mind. Designed by the creative visionaries (Standefer and Alesch ) who also crafted her personal residences, Goop Lab is an extension of GP's life (including her childhood) and all of the experiences that have made it so memorable. In other words, the physical location is an exploratory experience of what home should feel like. Goop Lab is a narrative of the brand, and it was created to be a permanent location for people to bask in this story and share the vision.
Situated in Los Angeles's Brentwood Country Mart (a dreamy neighborhood for many Hollywood stars), Goop Lab includes a fully functioning kitchen, greenhouse, porch, and living room, allowing visitors to feel at home. Their dream home.
This unique experience is also interactive in a way that will remain with visitors long after they leave and return back to their own homes. It's also educational by design and offers hands-on learning from the kitchen to the garden and beauty room. Rather than design a store, GP and her team crafted journeys, and ultimately these journeys were conceptualized into a user experience. This is the saving grace for retail as we know it.
As Standefer says most eloquently, "This idea that retail is dead . . . it's nowhere near it. But it's about doing it in a way that's really soulful, and thoughtful and truthful."
Nike and Coach 2.0
If what we are hearing is true, size doesn't matter for the future of retail.
As the physical and digital worlds converge in a ceremonial "joining of hands" for what we hope is a lifelong honeymoon, many upscale retail brands are scaling down rather than beefing up the UX associated with their store experience. And it's quite possibly the answer that humans need to once again make lasting memories with the products about which they are passionate.
Rather than scaling back the number of stores, these innovative brands are opening new doors and embracing a mindset of quality over quantity. But don't let size fool you, these smaller environments are bespoke in nature and educational by design. The following brands are both physically and psychologically designing a future where UX design and retail strategy are partners in innovation.
The New Nike
With an already impressive digital and physical store presence, Nike is turning to the people who know them best (their customers) to design a new store experience. Certain flagship locations, like the one recently opened in SoHo, are encouraging people to lead their own experiences with a much more personal setting.
With more resemblance to a training center than a store, these locations put visitors in the driver seat. Whatever the sport may be, Nike has outfitted these locations with loads of software and interactive technology, offering animmersive learning environment. Their adjustable basketball hoops and virtual courts provide a user experience that's truly unforgettable and undoubtedly fun. And there's a "kicker," the digital experience doesn't end with the virtual touch points; guests can order their gear on-the-spot and have it shipped to their homes with the confidence that it will fit and perform as expected.
Sh. Can you hear that?
That's the sound of retail professionals around the globe clapping for a (what could be) permanent decrease in online-return rates. Also, and it's a big also, guests can save data collected from their Nike+ App and use it later for purchasing gear online; it's the ultimate user experience. There's no pressure! And yet, the entire experience is still very simple: guests participate in a clinic, workout and purchase, all wrapped up in one engaging package. Oh yeah, that's what really good UX looks like.
A Design-it-Yourself Experience
Unlike other brands that are speeding forward with technology, Coach is welcoming guests to their New York flagship store to slow down and enjoy the moment through learning and interaction. Made to order isn't a new term for the retail industry, but it is one that breaths new life into the store experience. For this iconic handbag brand, it's being reinvented as Coach Create: a design-it-yourself experience.
Coach's newest flagship store embraces the values associated with craftsmanship and learning. Not only can guests watch artisans physically make new bags, but they can do so after ordering the exact design that they like best. From this offering, we can again learn how good UX puts the customer in charge of the solution-forming process. As guests choose their dream bag, craftsmen consult and build the item piece by piece for onlookers to watch. In doing so they form a bond and naturally learn about the goods they are purchasing (or planning to purchase). Although it doesn't get much more authentic than this, Coach is actually strengthening their digital personalization program as well. It's yet another testament to UX design and a bright future in retailing.
The Retail Experience Then Versus Now
The companies we've highlighted are investing in a 'new' brick and mortar concept. And although their physical stores will be smaller in size, the experiences associated with them are larger than life. They are transforming the stigma people have regarding traditional retailers (the ones who have focused on product and sales formulas for so long have fallen behind, their values no longer aligned with the modern human. Although criticism is easy to give, we understand change isn't always easy; it takes time. So as new leaders emerge, others will follow.
There is a new and emerging importance for values such as enrichment, education, community, and purpose. Legacy retailers must design a reason for people to visit them, and they must do it with greater detail. A new shipment of merchandise, end of season sale, or sporadic discounts on select goods that may or may not be in stock when a person arrives is no longer a measurement for satisfaction. People want clean, design-oriented stores, friendly and engaging staff (REI and Nordstrom), targeted, well balanced product selection and most important, an environment that puts the visitor in the driver's seat, guiding them through their journey; a mapped out experience for every step. This may sound complex but it really isn't.
We design this online experience every single day. With the right investment in technology, even legacy retailers can change in a big way and design their own path forward. For the sake of discussion, let's place Best Buy in the hot seat. Their stores used to be synonymous with immersive experiences and highly passionate employees. Now, you're more likely to find generic accessories rather than devices themselves, and oh yeah, how about you come back for a Geek Squad service plan when you eventually find what you're looking for.
With the continuous surge from Amazon on the digital front (their purchase of Whole Foods, their introduction of Amazon lockers), and encroachment from off-price retailers who specifically target the merchandise mix of legacy retailers, every current and new retail store must serve a purpose. Or better yet: create a new one. As we see it, that purpose must be to provide a new and rewarding experience, one that will require the skills of UX designers and knowledge from interaction design (IxD) to get right. An active example, PUMA city is a 'mobile' store that encourages visitors to hang out enjoy the scenery and show off their new kicks.
UX design and retail strategy are "getting together" for good. And we will all benefit from it. Our lives enriched, our experiences enhanced and our time-well spent. Said eloquently by Rachel Shechtman, founder of Story, "If time is the ultimate luxury and people want a higher return on investment of their time, you need to give them a reason to be in a physical space."
The first steps will be simple — discover what people need and design new solutions to exceed them. And for once, the product doesn't need to be the center of attention. Instead, the people using the product get to drive their own experiences seamlessly across a digital and physical landscape. So the next time someone asks you if retail is dead, you can look them in the eye and provide them the 'no' they are looking for.