The events of 2017 have positioned 2018 to be a year for recovery, growth, and healing from recent events: political chaos, global humanitarian crises and environmental injustice to name a few. Feeling humanity's readiness, Designing North Studios is on a mission to find and highlight the small details making a difference in society, starting with the collective effort witnessed from the creation of murals as a form of communication.
Cities across America are in desperate need of more public art — something thought provoking; emotional; relatable or just plain fun. Something to communicate positive vibes and inclusivity rather than negativity and fear. Could murals be the solution? A refreshing user experience for us all? We think so.
You see, murals are to the public as paintings are to gallery attendees: a visceral experience that requires little more than attention and interest, with the offering of pure enjoyment.
Deceivingly stationary, murals hold the power to larger movements, creating change and cultivating togetherness. Murals are the answer to designing more liveable communities for many important reasons: they are conducive to a person's and group's user experience (UX) within public spaces, they motivate positive change without name calling, and build community bonds through peaceful, artistic communication.
Murals Enhance User Experience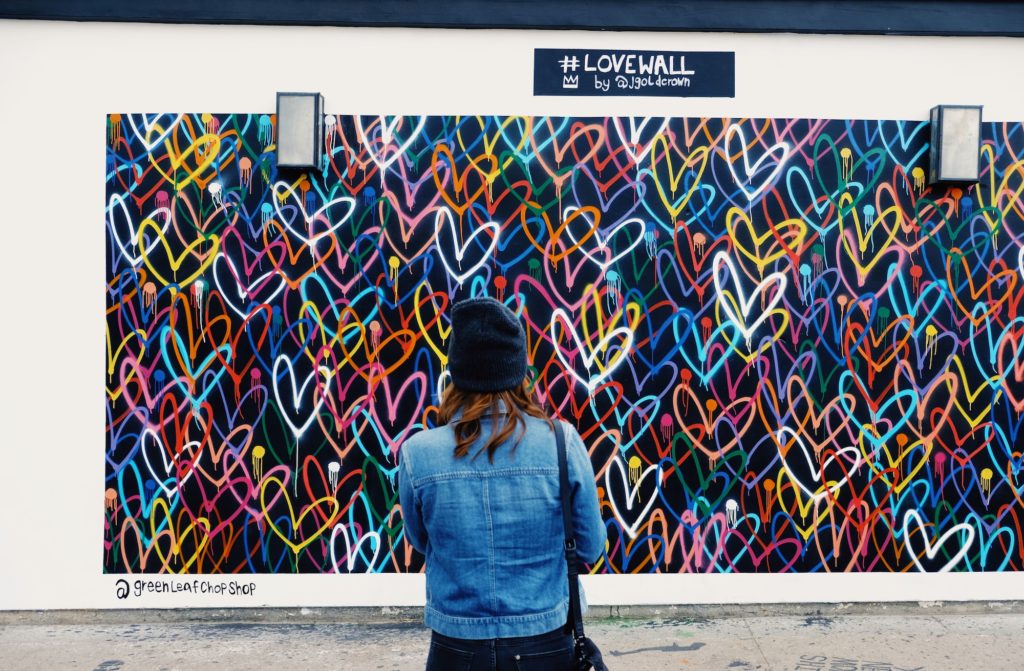 As a member of your own community, you might ask yourself, "what is there to do/see around here." As a UX designer however, the question might sound more like this: How can I interact with my community in a way that's enjoyable?
And through the lens of a UX designer (using design thinking), answering this question with a solution that provides equitable impact for both a business and the surrounding public will generate the most impactful outcome. Murals are proving to be the ideal conduit, straddling the border between tangible satisfaction and intangible fulfillment.
Whether it's measured by local foot traffic, tourism or social media insights, the impact murals have on the user experience (UX) recorded by a person in a public setting is felt throughout many large cities. From San Francisco to Manhattan, urban murals have become an embedded attraction, a reason for people to visit a specific area within a city to see with their own eyes what the hype is about — searching for a genuinely unique experience. From interviewing people on the streets of our local community, the most common reason for visiting a mural is to personally see what the artist has created, digest the artistic message being communicated and somehow capture the moment to share with others — both friends and family.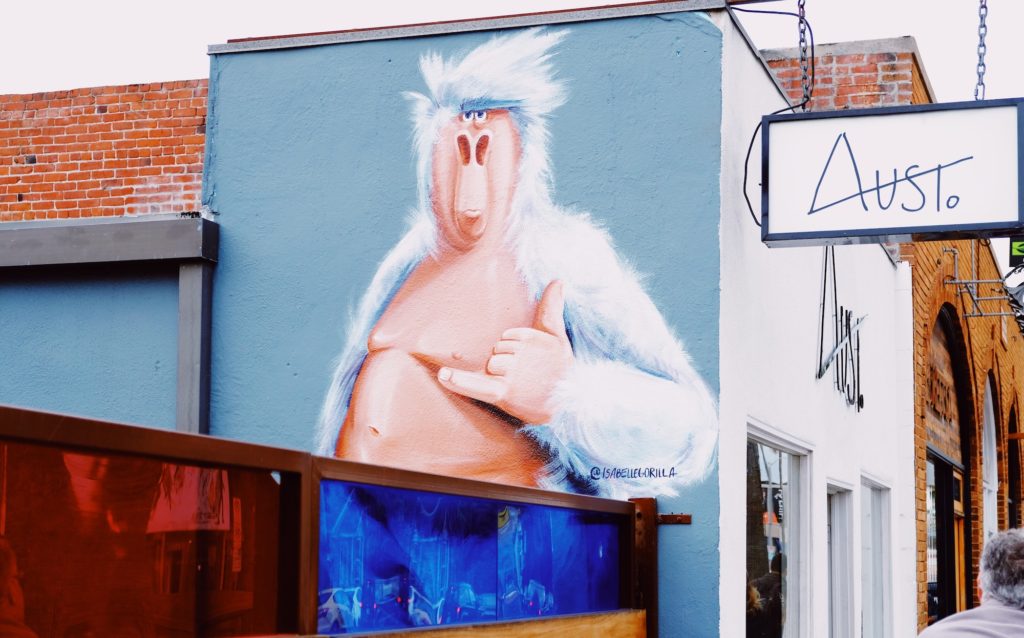 Most often, discussions around UX are directed towards a digital product, however, the physical world also benefits from good UX design — especially urban environments where many people are interacting with complex systems. Los Angeles is a proof of concept: from Venice to West Hollywood, the city is plastered with influential murals created by amature artists and historical muralists alike. If your asking why, you are thinking like a designer! A two-pronged answer, many of the murals were first painted in the mid 90s for various political, social and humanitarian causes — a way of communicating change at the time. But now, the city is again home to a "mural boom," a strategic tactic to improve the experience visitors have within evolving neighborhoods.
The city of Los Angeles, along with small business owners along Venice's iconic Abbot Kinney Blvd have made mural viewing a visually rewarding activity, one that is user friendly to visitors on foot exploring the outdoor shopping hub. From corner to corner, local business owners have allowed their exterior walls to be used for large-scale murals, fueling the efficacy of this outdoor retail marketplace. At a time when the greater retail industry is synonymous with "retail-apocalypse," components of user-centered design (UX in this case) are naturally adding value and reinventing the shopping experience — a concept we believe will define 'modern retail."
A recent visit to Abbot Kinney revealed a flow to it all. Almost all of the murals were on walls primed for photography — especially portraits, a.k.a., selfies. And they also ran perpendicular to the main street, giving visitors adequate opportunity to interact and hangout for a few minutes before their next stop. We also noticed that most murals seemed to be strategically located on the exterior walls of highly desirable restaurants, coffee cafes, and shops, a brilliant solution to reduce discomfort over wait times or purchase decisions (customers leave with a positive view of their overall experience). You may disagree, believing these factors to be too small and explained by coincidence, but we simply refer to that as good UX. (If it feels natural and compliments the overall environment, designers did their job.) And as Lisa Peacock, our Executive Creative Director, would say, "Small doesn't even need to be recognizable to make an impact. That's its beauty." When all of the subtle, small details work together, like the murals within a vibrant community, a form of capital is created for that specific region; experiential capital as we call it. And it's inclusive.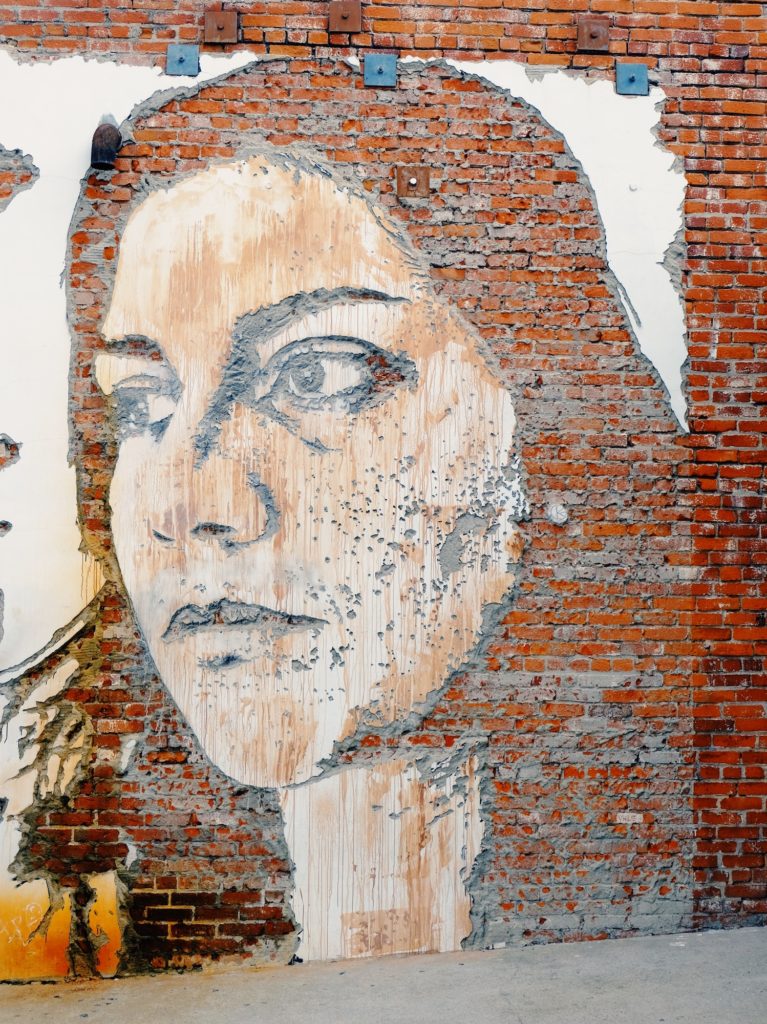 Murals Facilitate Positive Change
An extension of a good artist, a mural has the power to speak without ever saying a word–the popular "Isabelle Gorilla" murals found throughout Venice, CA, are a great example–one look and you'd swear the Gorilla was telling you to change your lifestyle, maybe even "slow down and chill." Although they may speak differently to each individual, the unique interpretations often lead to inclusive discussions rather than divisive belief.
Of course, change can come from many sources, but very few of those create desired change purely from spoken words. Often, expression, action, or in the case of murals–artistry is needed. An important detail, murals speak to all humans; race, age and ethnicity are not a factor. This is something Stanford Medicine has been sharing with its community since 2015 when Fair Oaks Health Center (Redwood, CA) revealed a mural in the pediatrics waiting room. A volunteer for the project, Stanford art practice lecturer, Lauren Toomer, MFA, strategically incorporated letters, numbers, shapes, and images of the Redwood City community, as well as three interactive learning panels into the artwork. With the goal of supporting pre-kindergarten-aged children, this mural serves as a tool to educate young children during their visits to the pediatrician–often the only contact they have with professionals of any sort. Part of a larger effort, this mural now aids many children from low-income families who simply don't have the means to pre-school, setting them up for greater economic potential from a very young age. Now, you don't need us to remind you of the cumulative benefits on society when all members have access to more schooling and therefore professional development later on in life (higher education and job opportunities, to name a couple). And to think, all of this positive change from the use of a mural…
Just three years later, MayView community Health Center in Mountain View, CA, is also using a mural for positive change within its pediatric care division. Replacing a TV, clinic workers have identified the value murals bring to both the children and the community, addressing knowledge gaps in relationship to other children their age from families with greater means to education and learning. A key component of Stanford's Pediatric Advocacy Program, murals are creating measurable change for many families in the community.
Similar to the walls of a pediatrician's office, the urban landscape serves as an artist's canvas, prime real estate for displaying visual art to convey important messages and change the status quo. A project accomplishing just this, Sea Walls by Pangeaseed Foundation uses public art to spread the message of ocean conservation into the streets. Since 2014, the group has created nearly 300 murals throughout 12 countries, including multiple pieces in San Diego, CA. And with over 200 artists on board, this community isn't painting in the streets simply to display their talent, they are collaborating to change the way people see the ocean environment; murals are their medium. As Pangeaseed explains, these murals have a dedicated purpose:
While our oceans are the Earth's life support system, providing 70% of the oxygen we breathe, a sixth of the animal protein people eat, medicines that keep us alive and healthy, and so much more, human impact in the form of overfishing, climate change, development, plastics, and other forms of pollution are taking a toll on the health of our seas. Unfortunately, these critical issues are often complex, multi-faceted and hard to understand for the average citizen. Through public art, Sea Walls has the opportunity to translate facts into visual stories that engage the public in a non-confrontational manner, and increase awareness.   
A lesson for all of humanity, why not let murals be our muse and allow them to communicate sensitive topics to a large audience without the anger-filled media battles? No matter what side of the fence you are on, art is always subjective–an effective method for communicating without insult or attack.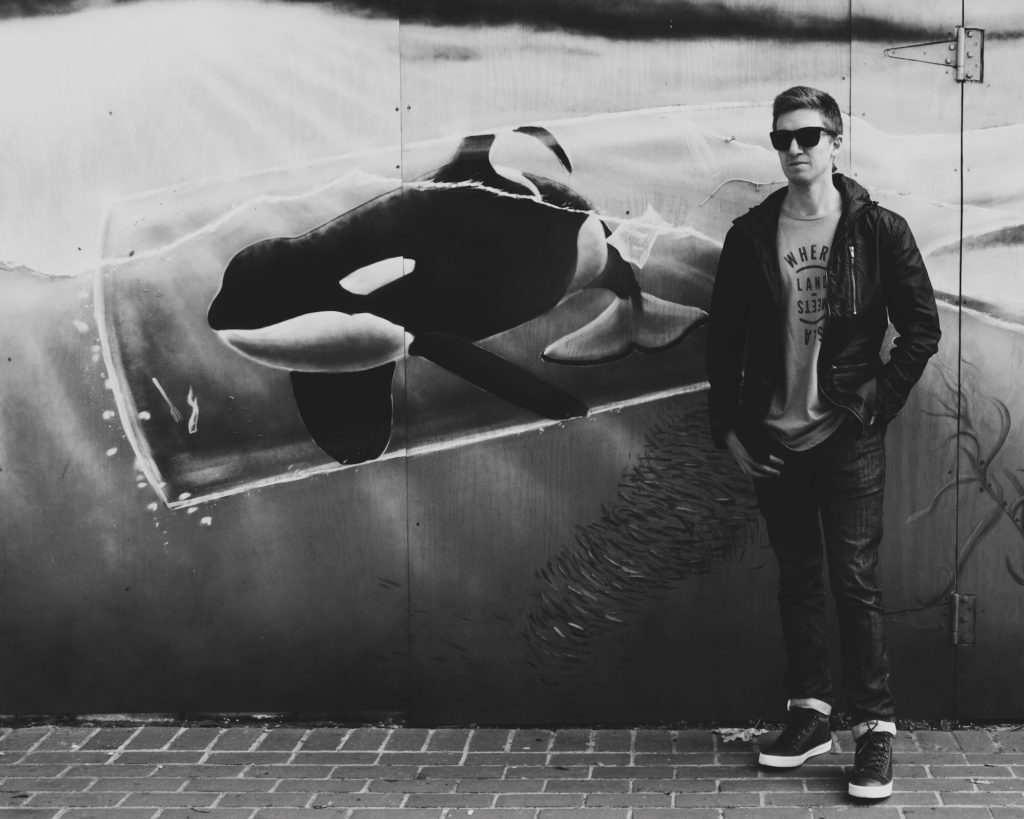 Murals Create Community Bonds
From Harlem to Portland, murals are much more than artwork, actively driving collaboration and cultivating a narrative for the communities in which they are created. From facilitating coordination among the public, media, local leaders and the artists themselves, a simple creative idea can quickly transform into an organized public event, a process Forest For the Trees does exceptionally well. Curating both local and international artists, this nonprofit puts creators on the center stage. From sketch to unveiling, the entire project displays each artist as an individual but remains cohesive as a city-wide event. That's the objective according to organizer, Gage Hamilton, "All the artists have their own themes and styles that they work within, and it was really up to each individual and pairing what direction they wanted to take. I just matched them up with property owners that liked their work, and all the property owners were cool enough to keep an open mind."
Murals have significance in the Portland area, largely due to the bonding influence they provide. As this project displays, the local government doesn't need to be relied upon for funding; by rallying local businesses and public supporters, community-wide mural events create more inclusiveness than a 4th of July block party. As the organizers had planned, Forest For the Trees wouldn't have been possible without the help of many locals; because they had a hand in the facilitation, a sense of ownership was felt resulting in accessibility for everyone who wished to join the fun. For humanity, this is a rewarding experience, one that can be replicated from one community to another.    
Designed around a theme, The Audubon Mural Project is the perfect example of how murals can facilitate bonding within a community.
A city not often identified for wildlife viewing, Harlem, NY, now has some of the state's best "bird watching," with around 80 completed murals out of the 314 that the National Audubon Society and local gallery,  Gitler &_____ Gallery, wish to complete. Unique significance now resides on Harlem's urban walls, covering the 314 species of birds labeled as threatened by climate change. You might ask, why Harlem of all places? Well, it happens to be the home of and final resting place of Mr. Audubon himself; a historical fact not recognized by many residents, that was until their home began receiving public art that made headlines across the country.
From Allen's Hummingbird to a Swallow-Tailed Kite, avian masterpieces are splashed across Harlem neighborhoods, covering everything from aged brick high rises to the security gates of dental and vision offices. And this is all part of the design — when businesses close up, residents and passer-byers have something colorful and awe-inspiring to look at: birds!
Complementary to anyone wishing to view all eighty murals, a project map has been created for self-guided tours around Harlem neighborhoods. Communicating global challenges, this project is attracting accomplished artists from all over, further adding value to the experience of being a local resident, community leader or business owner. When people exit their apartments or visit the gas station they are greeted with lively artforms. It's something different, something unexpected, yet so rewarding. This is the power of a mural.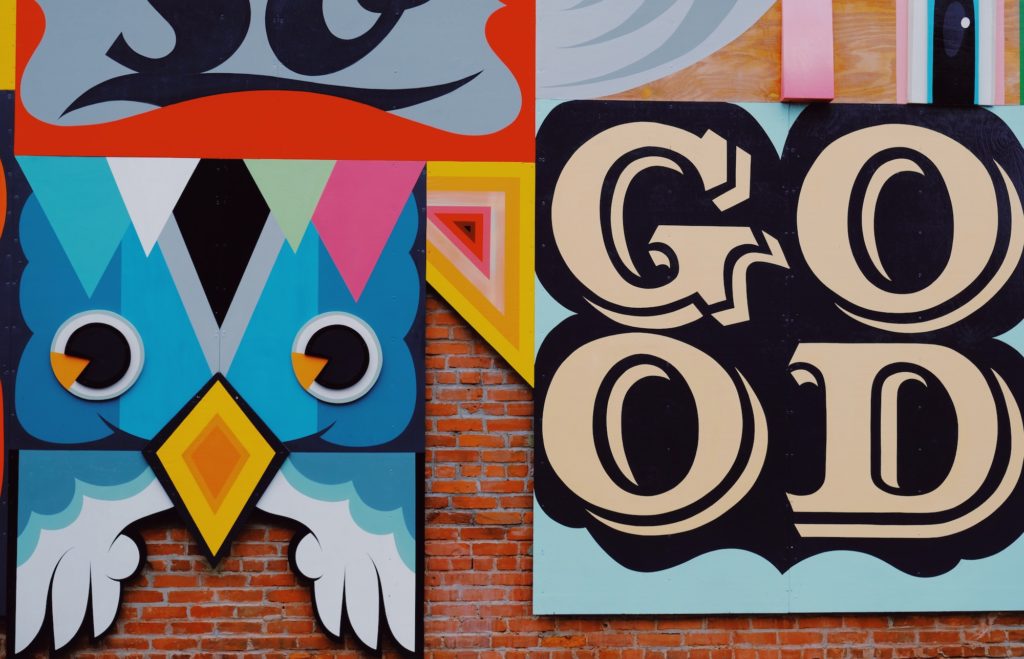 From feelings of unity and togetherness to cultivating thoughts for change, murals hold the power of influence. An answer to designing healthy communities, murals are conducive to a person's and group's user experience (UX) within public spaces, they motivate positive change without name calling, and build community bonds through peaceful, artistic communication. We say, let's create more murals in 2018.