With the lobster fishery closed for the season, it was now up to locals to design a community for conservation.
It all began with a young man dressed in flashy swim trunks, sprinting up the beach towards me as I sat in the sand, photographing nearby surfers. I have always considered the beach to be my second home; the ocean is a very important part of my life, and I have always been a strong believer that I must be active in protecting the things closest to me. This explains why I was alarmed by this lone runner; it's not like running on the beach is odd, but for some reason this instance felt different. And boy was I right.
In this moment, I was completely committed to this stretch of beach, as a participant in its beauty and steward for its existence, which allowed me to recognize that this was no ordinary young man out for some exercise.
Living near the coast for so many years has conditioned me to care deeply for it. It's no longer a choice but rather a natural thought I have or action I take to keep this environment free of conflict. Most often, a donation to a local marine conservation groups does the trick; facilitating a greater impact than I can physically provide. But on this day no such monetary exchange was required.
By the time the runner had stopped he was already waving his hands in the air, almost as if he was trying to flag down someone in the surf — fairly uncommon behavior unless jumping jacks are involved — they were not. I then thought, "is someone in trouble; should I offer help?" The wild arm waving lasted only minutes before a single diver popped his head above the surface like a seal scanning the shoreline.
I spent my childhood on this very coastline, free diving and spearfishing with friends. Yet, scanning through all of those memories I couldn't recall an instance when I had tried to communicate with someone on the beach, at least forty yards away. Again this situation proved to be different. The two young men appeared to be in-sync with one another; whatever they were up to was intended to be disguised from everyone around them.
Like magnets, the pair continuously moved closer to one another until the young man on the shore was knee deep in the water. Again the diver showed odd behavior in remaining on his stomach when he could clearly stand. At this point myself and a fellow group of four beach-goers were standing, intensely focused on this pairs activity. This beach in particular had a modern tower for state park employees and ranger, yet nobody was home at the time. Coincidence? More like a stroke of luck for these two.
Out of nowhere, two plastic bags were abruptly yanked from a backpack and double-bagged in perfect fashion. Either this guy was a supermarket attendant in his profession or had plenty of experience doing whatever it was he had planned next. Seconds later the diver presented at least two large Spiny Lobster — attempting to hold them below the surface, out of sight from us onlookers.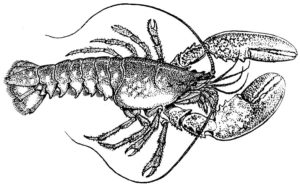 My instinct urged me to confront the young men head on, but my lack of legal knowledge restrained this response. Instead I pulled out my phone and visited wildlife.ca.gov to verify the exact dates of California's lobster season. The results read: March 16, 2017. Additional text stated that each count of illegal capture could carry a fine of $1,000 and possible jail time — no wonder these two were acting with such deceitful intent. The day's activities suddenly fell into perspective.
With the sight of lobster antenna crawling through an opening in the bags, beach-goers began approaching the pair with smiles of intrigue and curiosity. Clearly this attention, although harmless to their mission, was unwanted. With the obvious risk of being spotted by the park rangers the lobster catch was stuffed into a backpack and thrown over the man's shoulder; followed by a mad dash back down the beach towards the parking lot.
Witnessing this blatant disrespect for not only the law, but also a place I cherish, was more than enough to incite my involvement. As I searched for the park ranger — he had passed by me only twenty minutes prior — I made contact with the only group who was noticeably disturbed by the brazen heist of a highly regulated marine asset. They too were ready to take action, with the mindset that we all share a responsibility in protecting our local environment.
Our physical presence on the beach, just outside the state park tower, served as the flare needed to direct officials to our cause . What began as individual efforts soon progressed to a group cause fueled by a desire to act beyond expectations — providing a voice to the environment that we call home. This wasn't a new scenario for the on-duty rangers. In fact, as soon as they heard of our account they assembled their search crew within seconds with eyes already over the beach exit; it was time to let them get to work on foot and by air.
As I returned to my car I couldn't help but fixate on what had transpired; thinking about everything else that could have been done to stop the day's unfortunate loss, the moment they trespassed on our coastal environment. I asked myself, if it were an elephant being slaughtered, or a bear being trapped, would everyone have paid attention — am I missing some unidentified threshold for tolerance? In a time when poaching and wildlife crime is considered a global crisis, there's no room to turn a blind eye, not even for a pair of irresponsible teenagers who seemed to fit their surroundings well.
As frustration eased, I wrapped my head around a lesson to walk away with, and share with you:
Not one person HAD to pay attention to these people as they commit their crime — but a few of us were compelled to do so. We went beyond what anyone would have expected us to — the 'designing north' mindset. This mindset is in you too, in ways you may have already discovered or will eventually find.
Although I may never know whether or not my actions served as a voice for the voiceless, I am certain that they brightened the day for the law-enforcing professionals I collaborated with. The feeling of camaraderie and sense of pride that I would want, if I were in their shoes, is exactly what this experience provided.
Healthy marine life, healthy marine ecosystem, and a happy coastal community; it just takes a few good people to make a world of a difference. And why not be one of the few. Many people go beyond what is expected of them: in their career, how they live, the relationships they nurture, or through just a simple random act of kindness – we call it   'designing north'.
Do you know someone that is 'designing north'? Maybe it's you? Tell us. We're looking for the global count.